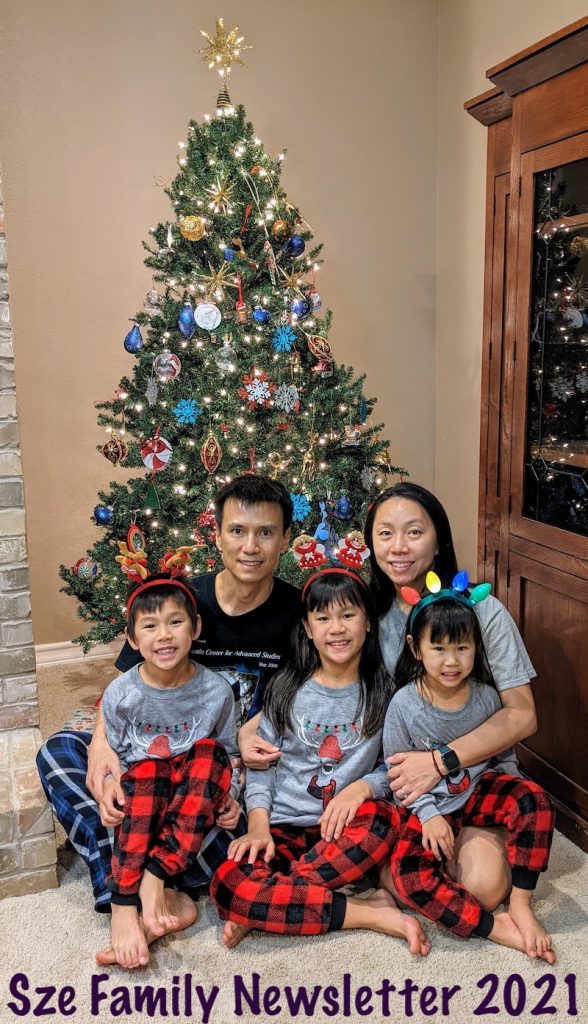 Our family has a blessed year of 2021 even though this second year of COVID pandemic has completely changed the lives of us and others.
We made a decision to move Charlotte and Atticus back to the public school from the charter school. We feel that would be a better fit for our kids and the daily routine. With the little commute and less waiting in school car rider lines every day, we save about 1.5 hours everyday which the kids can enjoy more outdoor sun and activities after school.  We get to read, relax and enjoy our snack time under the sun in our front yard, sometimes with our neighbors. 
We biked less this year but Avery enjoys riding her 12-inch bike in our cul-de-sac almost everyday. She got much stronger for a distant ride. In the fall, we went biking along the trail next to our house for 10+ miles and Avery was able to keep up and finish the trail with us!!!  We were so impressed by her will power and strength. We are looking forward to longer rides in the future. 
We started the kids with swimming lessons when they were 4. They have been in a swim team since the beginning of 2020. Because of the pandemic, they were not able to compete in the swim meet. Luckily, our neighborhood co-organized a swim league with meets during the summer time. They compete with other neighborhoods during the 7 weeks period. Charlotte and Atticus were excited to get up at 7am and practice everyday. These were their first ever swim meets and they enjoyed the competitiveness from the hundreds of swimmers. Their swimming skills improved a lot and they met lots of great friends who go to the same school in our neighborhood. It helps a lot with them adjusting to the "new" school (and the environment in our neighborhood). When the new school year started in August, they fit right back in and had no problems meeting friends.
During the Fall break, we skipped a couple days of school and went for a road trip to Great Smoky Mountains National Park with the other 3 families. We had 2 close encounters with black bear mommies and their cubs in our vehicles. Kids were amazed by mother nature and enjoyed the hike a lot. We did a long hike for about 5.5 miles and lost track of the time. By the time we came down from the mountain, at the last 20 minutes of the hike, we missed the sunlight and it was completely dark.  It was quite an experience for us. All our 4 families have been very careful during the trip and completely avoided dining out. However, right after the trip, we found ourselves in close-contact with COVID, so we had to stay home for more than 2 weeks. We had to do the nose swap COVID tests 4-5 times to protect us and others. It's not easy to do it with Avery because she has such a small nose. Overall, we are blessed with a fantastic trip and great companies!! 
Avery went back to the full-time Spanish-immersion preschool before the summer began. She has been enjoying her new routine and learning so much from school.  She is getting ready to be a kindergartener next year!  While all the kids are in school, Winnie continues her house projects. She is gradually catching up and making good progress.  The house projects will continue and hopefully be done by the end of 2022. 
Again, we spent our winter break in snow! We skied in Keystone Colorado with 3 other families. When we went skiing earlier this year during spring break, Charlotte and Atticus started snowboarding. During this Christmas trip, Charlotte and Atticus decided to sharpen their snowboarding skills and were determined to practice S turns, with no fear of falling again and again.  Avery skied very well on blue trails. Cliff decided to continue snowboarding and we think this will be his choice for a longer-term. He may not switch back to skiing as he is getting better and enjoying it so much. 
Cliff grew his team a lot in 2021. Even though it is getting overwhelming to coach a big team, he is very proud of their team culture and the accomplishment they achieved. Coming to the end of 2021, he has been doing a lot of new planning which is extending into the beginning of 2022 because most of the low-hanging-fruit projects are done in 2021. He is cautiously excited and looks forward to the opportunities and challenges.
Our family wish you all the best in 2022.
Love, 
Cliff, Winnie, Charlotte, Atticus and Avery