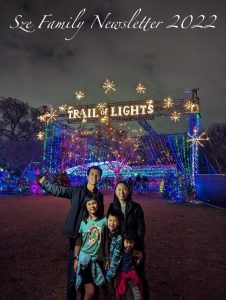 In 2022, the Sze family is learning the new normal life in the post-pandemic times. The biggest project for the whole family in 2022 is definitely the remodeling of our house. We started our brainstorming from the idea of replacing the decade-old carpet we had from the previous owner, remodeling the kitchen and bathrooms so that it will be much easier to clean, and making the upstairs open area usable for kids and friends in the years to come. Finally, we decided to remodel much more. We look forward to the completion of the house remodeling in January so that we can finally go back to our normal life.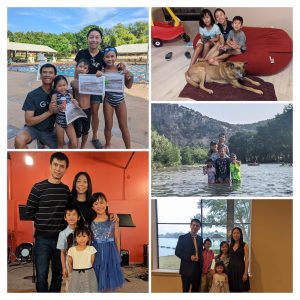 In fall, we decided to move all 3 kids to another swimming club and they have enjoyed it so much. The swim club practice is outdoor with a heated pool. Surprisingly, kids prefer the outdoors with fresh air and less noise. The previous club was close-in and the air was full of chemicals. It is hard to stay inside to watch them as it was too hot or smelly. Now, we can sit on the bench and enjoy reading with kids. The coaches to swimmers ratio is smaller, so they can focus a lot more on each kid's skills.
Charlotte is turning 10 soon and she knows her way to take care of her brother and sister. She is fascinated by what she learned from the Science classes. She also enjoyed math a lot. Although she has a busy after school schedule, she enjoys her quiet Wednesday (no after-school activities) when she gets to read and relax. It's interesting to find that she started to use the piano as a way to relax.
Atticus started his orthodontic treatment and had his expander put on. It will enable him to have more space for his permanent teeth. He is excited to get his braces and he has been showing his teeth to all his friends. The treatment will last for about a year.
Avery started kindergarten in elementary school this year and she is so excited to be in the same school with her siblings. She made some friends and she is loving to learn. She likes to read and is a busy kid. She is always up for challenges with endless energy.
On weekdays, kids have a very busy after-school schedule. Between swim practice, piano and violin, and Spanish, Charlotte decided to try hiphop dance. Atticus will join a youth basketball league after the new year. Avery started to practice swimming 3x a week. She has gone to a couple of the swim meets and did awesome with the 50m events. She continues to amaze us on her strength and endurance.
The kids started to help more on household chores such as dishes. Regularly, the kids will help mopping the floors and cleaning the toilets and doing laundry.
In early October, Cliff did his first Sprint Triathlon with his friends in neighborhood pool/trails and the Austin Veloway. It was very challenging but a good way to get out of his comfort zone. At work, Cliff's company recommended the employees to return to work with flexible schedules since April, and Cliff has been back to the office a few days a week. He enjoys face-to-face time with his coworkers. Over the year, there have been a couple of major organizational changes at work so Cliff has been learning new skills to keep his team focused and stay productive. It has been a rewarding journey.
Looking back this year, we have been on the move.
Our weekends are occupied with swim meets, swimming practice, and other outdoor activities with friends. We treasure family time. Sometimes we would do a short movie or workout video together.
In March, we are so thrilled to be at the wedding of my brother Joshua and his wife Jessica. Charlotte, Avery and Atticus were the flower girls and ring bearer. They were honored to be part of the beautiful wedding!! It was blessed to see all the families.
In the summer, in between the summer swimming league in our neighborhood and the summer camps, we decided to take a trip to Miami for the beach with white sand. We got to try delicious seafood as well as Cuban and Haitian cuisine. We were blessed with an amazing time with great friends and perfect weather (tropical storm for one day but we were able to stay indoors and enjoy the museum.)
In November, Atticus had his first piano recital. He was a little nervous for a couple of weeks but he practiced very hard and did well. Charlotte joined the UT Music festival the first time and it was quite an experience for her. We started Avery with some basic piano and she has been practicing. She has been eager to play a few couple songs to her friends whenever she had a chance.
In December, we went on a 2-week long ski trip to Colorado with another family of 4. It was planned as a relaxing trip because we took breaks on the driving, and we stayed in the same airbnb for days in only 3 cities: Keystone, Denver and Colorado Spring. On the day leaving Keystone to Denver, due to the winter storm, 9 of us were stuck at highway I-70 for 6 hours. Thankfully, we had a lot of fun with jokes and games in the car until the highway was cleared up. We really enjoyed the dynamic with friends. The kids improved quite a bit on their snowboarding/skiing; they were all very comfortable taking the blue trail down. Returned to Austin on 12/30, we have been unpacking and cleaning the house over the long weekend. (That's why this newsletter has been written a few days later than previous ones)
It has been a fruitful year. We look forward to the new challenges ahead of us. Hope everyone has a blissful year in 2023.
Love,
Cliff, Winnie, Charlotte (9), Atticus (8), Avery (5) and Fiber(~14)