Wedding Party – May 2012
***Official wedding invitation in PDF (Click here)***
Date : Sunday, May 27, 2012
Time: 11:00am until 5:00pm
Agenda: 11:00am – Greetings & Photos( you can come at 10:30am for photos)
                    11:45am – Exchanging vows and blessings
                    12noon – Lunch 
                    12:30pm – Toast
                    1pm – Cut the cake
                    1:30pm and after – Let's enjoy the rest of day!  you are welcome to utilize the park facilities for any fun activities. 
Venue:  Brushy Creek Lake Park  ( 3300 Brushy Creek Rd, Cedar Park, Texas, USA)
This is our official wedding party.  We are going to exchange our vows in front of our families and friends. Please grant us the honor of inviting you and your families to our wedding party and enjoy a nice Sunday in the Memorial weekend.

Invitation Card:
The wedding will be held at the "Cedar" and "Cypress" pavilions in the Brushy Creek Lake Park. (Please check the photos for directions and more details). The pavilions are at the center of the park, which are very close to the two parking lots.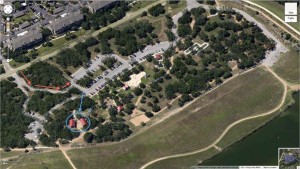 We use facebook and evite to send the preliminary invitation because it helps us to organize the guest list. However, we would like to send you the official invitation card. Would you mind sending us your address to winnieandcliff@gmail.com? If you prefer an email instead of paper, please let us know and we will send a PDF file. Please note that thank you card will be sent in the same way.
Dress code:
There is no dress code. We would like you to relax and enjoy our wedding party. You can wear anything you feel comfortable with. Cliff will be in a black suit and Winnie will be in a white dress. I am sure some people may dress very nicely and some people may wear shorts. Kindly note that the venue is a park and nice shoes may get dirty. (Please check out the photos from google map satellite picture of the park and the 2 pavilions for the party)
Lunch:
Lunch will be served at noon. 
Other activities:
It is a big park on a trail and there are playscape, sandbox, kid's sprinkler park and canoe rental. You can also bring your bikes and ride on the trails. Of course, our dearest VB-holic can enjoy the sand volleyball court.
Registry:
Please see our registry for detail.